Visa Credit Card Protection
When your family experiences a hardship, the last thing they need is additional worry about how to pay your debts. Credit Life and Credit Disability may make your loan payments in the event of disability or even your death. Talk to us today about these important components of your financial security.

Credit Insurance (Credit Life & Disability) may make your loan payments in the event of disability or death. Apply below, and enjoy the security that comes with being protected.
---
Protection that fits your needs:
• Easy application
• No medical exam required
• Customized to fit your needs and budget
• Cost included in your loan payment
• Completely voluntary
• Will not affect your loan approval
---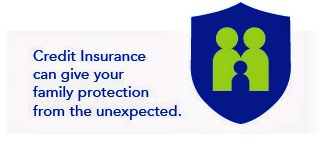 *CUNA Mutual Group is the marketing name for CUNA Mutual Holding Company, a mutual insurance holding company, its subsidiaries and affiliates. Your purchase of MEMBER'S CHOICE® Credit Life and Credit Disability Insurance, underwritten by CMFG Life Insurance Company (Home Office: Waverly, IA), is optional and will not affect your application for credit or the terms of any credit agreement required to obtain a loan. Certain eligibility requirements, conditions, and exclusions may apply. Please contact your loan representative or refer to the Group Policy for full explanation of the terms. Base Policy Nos. CI-MP-POL, CI-SP-POL, B3a-830-0996, B3a-8000695, B3a-8000288, CI-MP-CE-POL; CI-MP-OE-CC-POL; CI-MP-OE-POL; B3a-800-0992.