Meeting Busy Members Needs
Published: June 22nd, 2016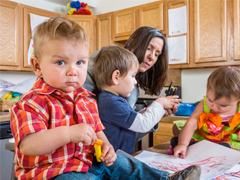 We serve busy people
We all live busy lives and we here at SOCU understand that. One of the biggest obstacles for members getting a new car or extra cash for a dream vacation is finding time to come in and sign documents at SOCU. We have expanded hours at SOCU in order to provide members with better service, but sometimes members need a little extra help. Whether it's a swing shift work schedule, not having enough time to stop in to a branch or the inability to make it in to our locations for other reasons, SOCU is accommodating members in order to create an environment of people helping people.
Online Services
SOCU has the ability to send Docusign loan documents to members in order for them to sign for their loan in the comfort of their own home. Docusign is a program that allows for members to receive their loan documents via email, sign them from their own computer and return via email. The process is easy and painless, and it saves members a significant amount of hassle if they are unable to stop in the credit union during the busy work week. This process is very simple and many members who use it love it.
---
Docusign can also help if you have lived in one of our counties, but moved to a different location. SOCU can use Docusign with existing members to get them a great SOCU loan rate.
---
Service where you are
Docusign is a great tool, but we also realize that sometimes members either don't have access to a computer, or would prefer to meet with SOCU staff face to face. For these people we can accommodate by scheduling times to meet with the members at a preferred location. We essentially bring the loan to the member and sign the documents as if we were in the office. This is especially great for some of our elderly members or members who do not have convenient access to transportation.
So what does all of this mean for the members?
Our core focus of SOCU is to provide passionate service to members to create a unique experience of people helping people. Docusign and bringing loan documents to members is one of the ways we do that. We remove much of the hassle of trying to find time to come to us. Instead, we bring our unique form of lending to you.