A New Phone Scam To Look Out For
Published: February 2nd, 2017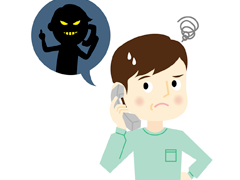 Phone scams are nothing new, but every so often old tricks get popular again. Forbes reports that answering one phone call could spell disaster for your identity and credit cards alike.
If you think you have become a victim of this scam please call us direct at 815-673-1589 to suspend your credit card information and have a Card Services Representative review your account.
For after hours Lost or Stolen: Debit Card: 800-523-4175 • Credit Card: 800-325-3678
---
Answering One Simple Question Could Make You A Victim In Latest Scam
For years, scammers posing as agents from the Internal Revenue Service (IRS) have been targeting taxpayers. Another scam making the rounds this year highlights the danger of responding to those kinds of calls - even if you think you're getting the upper hand.
As part of the current scam, fraudsters are making calls and asking, "Can you hear me?" If you answer with "yes," your answer is recorded and may be used by the scammer to authorize bogus charges on a credit card or a phone or utility bill.
Other variations on the scam include asking other yes/no questions like "Are you the person responsible for paying the telephone bill?" and "Are you the homeowner?"
According to Susan Grant of the Consumer Federation of America, "It's not a brand new scam" and it "has popped up now and then in different variations before." This latest variation has been reported mostly on the east coast of late.
[Continue Reading on Forbes.com]
Erb, Kelly Phillips. "Answering One Simple Question Could Make You A Victim In Latest Scam." Forbes. N.p., 30 Jan. 2017. Web. 2 Feb. 2017.