Mobile Pay
SOCU is proud to announce our latest greatest feature, mobile pay! SOCU supports Apple®, Android, and Samsung mobile pay options. Below is a list of how-to documents that can help you get set up and running with mobile pay today.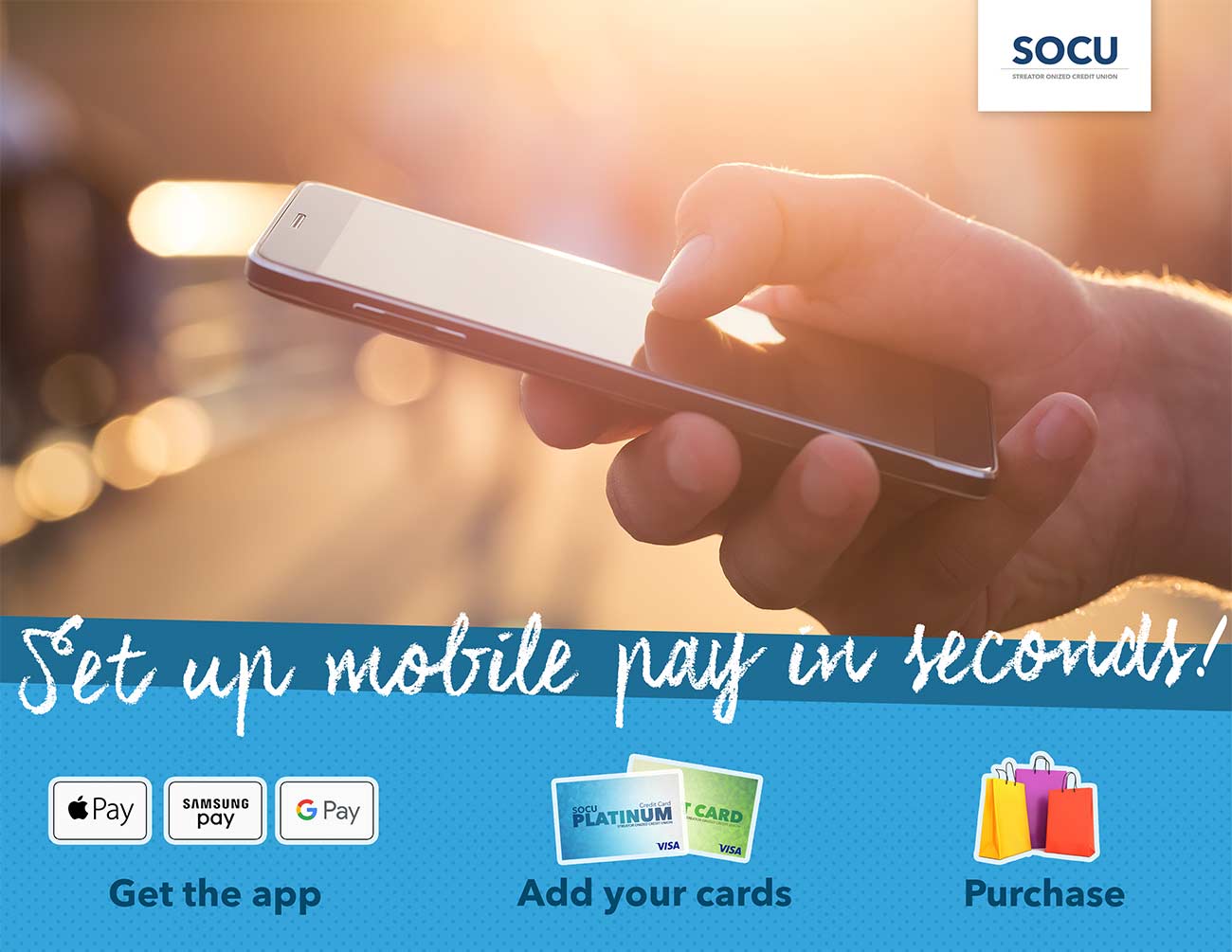 ---
How to Guides
The below guides will help you get started on Android, Apple® or Samsung Pay today!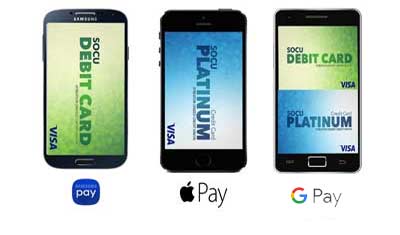 Google Pay How-to Guide - Google Pay How To Video
Apple Pay How-to Guide - Apple® Pay How To Video
Samsung Pay How-to Guide - Samsung Pay How To Video
---
Get Started with Mobile Pay
Follow the links below to get the apps that correspond to your phone type.

You already use your phone for just about everything. Now you can pay with it, too. Just add your credit, debit, loyalty, and gift cards to Google Pay, and start shopping in stores, in apps, and online.
Get the Google Pay App

Apple® Pay is accepted in grocery stores, boutiques, restaurants, hotels, and so many places you already enjoy. You can also use Apple® Pay in all kinds of apps — and on participating websites using Safari on your Mac, iPhone, and iPad.
Get the Apple® Pay App

Don't change where you shop, just change the way you pay. The latest Samsung devices work at all your favorite places, making Samsung Pay the most accepted mobile payment.
Get the Samsung Pay App
---
Get Started with Wearables

Paying with your phone is cool but paying with your smart watch is even better! Click below to learn how to set up Google Pay on your droid wearables.
How To Use Google Pay on Wearables

Apple® Pay and Apple® Watch work together perfectly. Setting up Apple® Pay to work on your Apple® Watch just takes a few steps!
How To Use Apple® Pay on Apple® Watch

Samsung offers a variety of wearable gear including their S2 & S3 smart watches. Integration should already be set up. For more details click below.
How To Use Samsung Pay on Samsung Gear
---
Put Your SOCU Card at the Top of Your List
This is how your SOCU cards will appear in your mobile pay phone apps.